JACKFRUIT MASTERCLASS
1.150,00 DKK incl. moms
One time only
February 5, 2022
12:00 – 17:00

Location
Hahnemanns Køkken
Sankt Kjelds Plads 14
2100 København Ø



Jackfruit is gaining popularity in Denmark. Still, many do not know where the fruit actually originates from and what you can actually do with it. The fruit is often confused with the smelly durian or more starchy breadfruit. When applied thoughtfully, even die-hard-meat-eaters cannot resist the delicious taste of jackfruit and vegans keep asking if it is really not meat they are being served.

In this exciting masterclass, you will get a chance to learn the secrets to making different jackfruit dishes.

You will learn
* To use different spices and other flavor enhancers, and thus get a lot of flavor and variety in your everyday kitchen.
* To steam, fry, bake, braise, and combine jackfruit with other vegan ingredients.
* To put together filling dishes that can be varied in many directions.
* To taste, prepare and serve jackfruit.

During the class you will make
Jackfruit curry with creamy coconut and lemongrass
Jackfruit burgers with juicy coleslaw
Jackfruit salat wraps with avocado and tomato
Jackfruit tacos with guacamole and pico de gallo
Pulled jackfruit with homemade BBQ sauce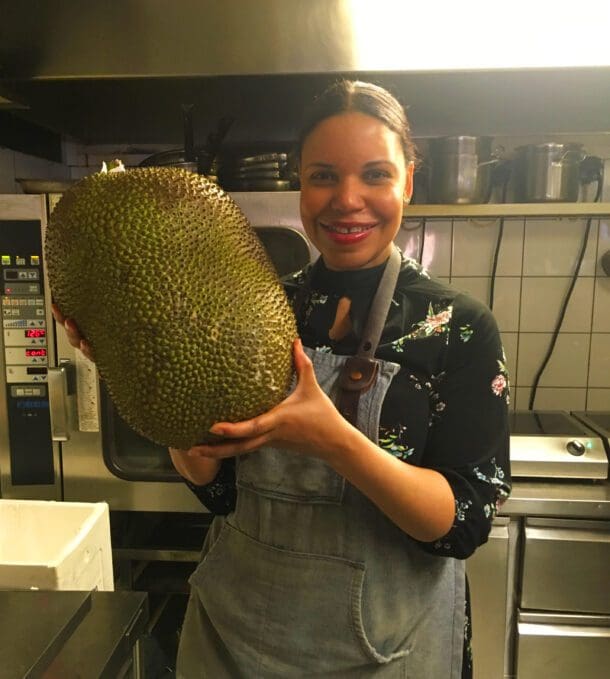 BOOKING
Head over to Hahnemanns Køkken


Jamain Brigitha aka The Caribbean Housewife is known for guarding her cooking secrets closely. For Hahnemanns Køkken, she makes an exception by sharing methods and inspirations behind her distinctive Caribbean and Latin inspired cuisine.

The unique Caribbean and Latin American cuisine from The Caribbean Housewife can not be found in other places in Denmark. It is inspired by traditional recipes from tropical places in the West Indies region and Latin American region, such as Cuba, the Netherlands Antilles, Jamaica, Surinam, Trinidad and Tobago.

For this event you get to join her in the kitchen where she will teach you how to turn basic ingredients into a mind-blowing dish packed with flavor.

After the masterclass we get to enjoy the food we made together. The event is suitable for vegetarians and vegans, as well as people who are gluten- and lactose intolerant.
Product Photo
Jackfruit taco


Description
MASTERCLASS
One time only at Hahnemanns Køkken in Østerbro on
February 5, 2022 at 12:00

There are only a few spots available.
The booking is done at Hahnemanns Køkken and the order is binding.
You will receive a confirmation by e-mail.